Norfolk Artists & Friends evolved from a conversation I had with Patricia Nooy Miller, a resident of Norfolk who proposed the idea of having a salon gathering of artists. Her interest came from her own artist children as well as the presence of a young potter and tenant living in the Miller's guest cottage.

We first created a list of all the working visual artists and craftsmen who were living in Norfolk, Connecticut, along with three friends who had been important to the art world of Norfolk over time. To my astonishment, there were 56 names on the list. It seemed a large number in a town of under 1,700 people. The Millers responded with enormous generosity and together we immediately set a date, sent out invitations and on Sunday, October 19, 2007, a beautiful fall afternoon, we welcomed our guests for a great lunch and lots of conversation. Thirty-six artists signed our address book on that day.

This was the beginning of Norfolk Artists & Friends (NAF). In 2009, we held our first group show, which was sponsored by the Norfolk Chamber Music Festival – Yale School of Music and made possible by their generous gift and use of the Battell Stoeckel Art Gallery. Our group has worked well together as a team and since then has held a group show each year in August. Last year 30 of our artists participated in the show.

I am truly honored to be a founder and team leader of enormously talented people. Artists are positive creators, adding strength and beauty to our universe. These creative bursts of the spirit offer an endless tribute to our humanity.

– Ruthann Olsson
Norfolk, Connecticut, has enjoyed a long history of attracting and inspiring many fine artists. Norfolk has also been fortunate in having generous art patrons. Following is a brief history of Norfolk art in pictures.

The artist Parker Newton (1861–1928) enjoyed painting winter scenes in Norfolk. Not much is known about this artist, although his work can be found in galleries around the country. He died in Neuilly, France, in 1928. This inscription appears on the back of the photograph: "I think this is Parker Newton who was a friend of G.C.S." The identity of G.C.S. remains a mystery as well.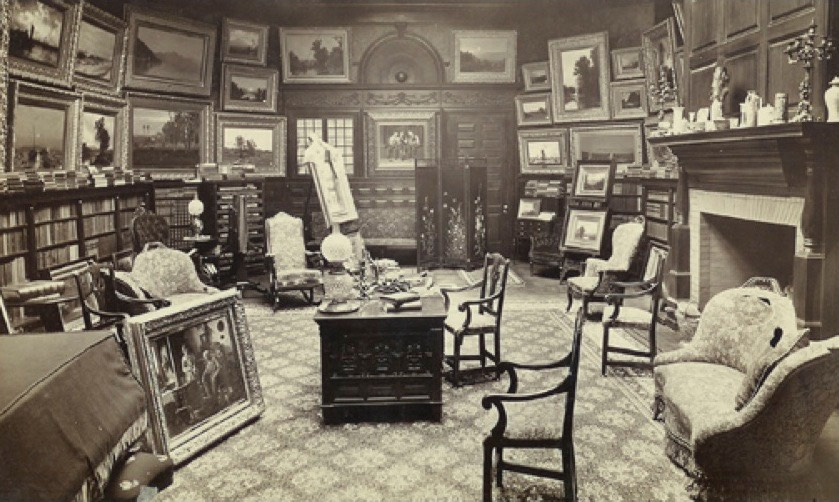 An early patron of American art, Robbins Battell (1819–1895), assembled a large collection of paintings by native artists that was hung in the music room and library of Whitehouse on the grounds of the Battell Stoeckel Estate in Norfolk. The gallery was regularly opened for viewing and shared freely with the people of Norfolk. It included landscapes by Hudson River School artists Frederic Church, Thomas Cole and George Inness.
In 1898, Carl Stoeckel (1858–1926) and Ellen Battell Stoeckel (1851–1939) hosted Frederick Dielman in Norfolk. Dielman (1847-1935) was president of the National Academy of Design and a distinguished artist who designed mosaics for the Thomas Jefferson Building of the Library of Congress. The Stoeckels had just published "Music and Poetry of Norfolk", a book of poems and songs in tribute to Ellen's father, Robbins Battell. Dielman inscribed the book with this wonderful pencil drawing of a view of the gardens behind Whitehouse.